International Competition Europan 12  
Vienna, Austria, 2013
Second Prize
International competition Europan 12 Austria was seeking a solution to the complex suburban "Siemensäcker" area, in the outskirts of Vienna. We found 3 SITUATIONS, very different to each other, that required an unconventional approach: an urban void prepared to be occupied by a new residential development; a tertiary fabric waiting to be completed with new buildings; and a old factory in search of a new use as an equipment for the future neighborhood.

We propose  3 TOOLS in order to solve the diferent situations:
1. The design of flexible SUPPORTS, which define a frame for the development of urban processes, ensuring a controlled built surrounding as well as allowing some degrees of freedom and diversity.
2. A SYNTAX for the description of the urban fabric production without defining its result. That is: some rules for using the supports, which implicate architectural values leaving most decisions open for later design.
3. A SOFTWARE that manages, once the supports and their rules are defined, the social and cultural structures that will program them in a dynamic manner.

The result of employing the 3 tools in the 3 identified situations creates a matrix that generates a strategic approach to the project. We confirm in each case that the urban support will be different (in one case it will be the free areas, in another the infrastructures, in the third the existing building structure), as well as the syntax or the rules of use (based on the group, the object, or the transformation), and the management strategies (centered on property, mobility and uses).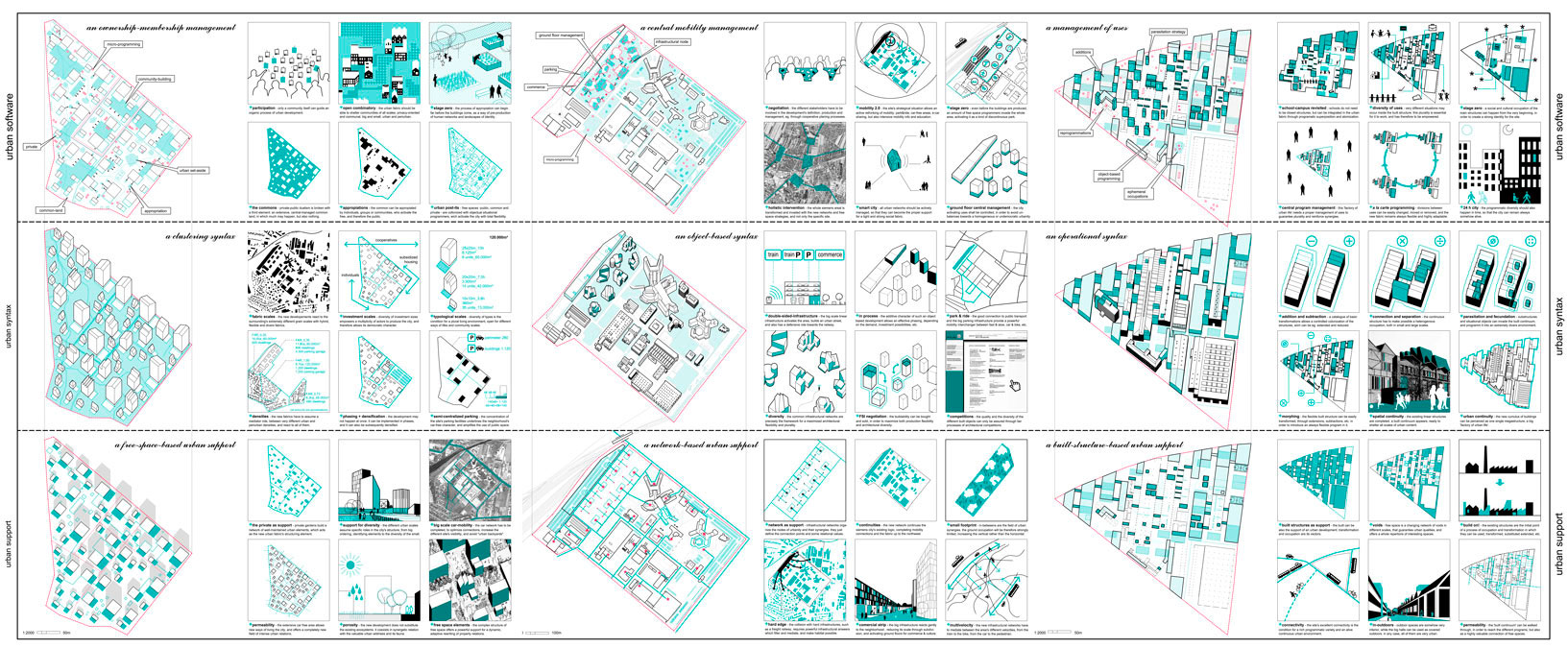 The matrix will be the beginning of a negotiation between the different actors that decide over the production of the city: the public sector, the private sector, and the popular sector. We understand that our job as architects is to supply the tools to increase the number of actors (involving different interests, scales of investments and participation), and achieving a more democratic process in the production of the city.
_
>Collaborators:
Almudena Cano Piñeiro, architect
Ana Isabel Prieto, architecture student
Paula Fernández, architecture student
Kerstin Pluch, architecture student