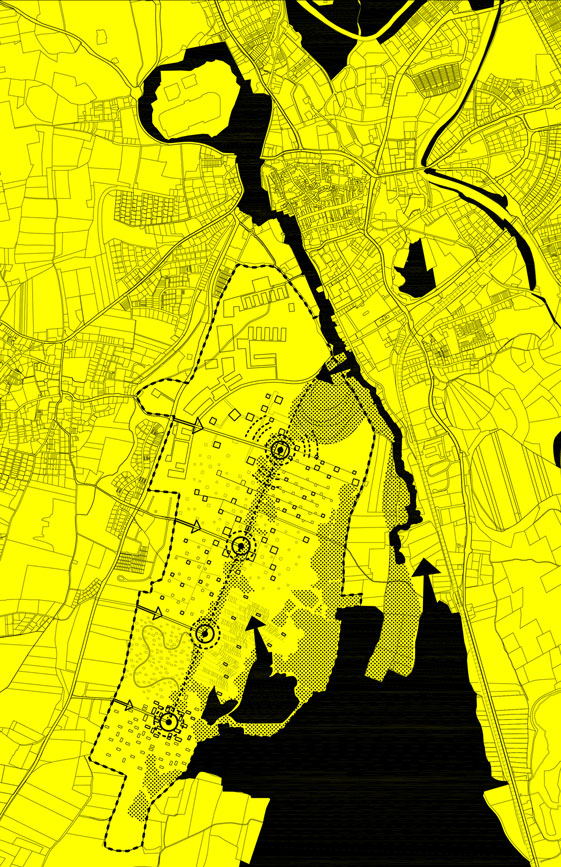 FORUM CITY
International Competition Europan 12
Kaufbeuren, Germany, 2013
The international competition Europan 12 was about the integration of an area with a surface of 120ha into the city of Kaufbeuren. The solar, an old landing runway, is currently not in use and its closing is planned for 2017. A urban development plan was searched, which would connect the area over time with the city centre and transform it into an urban texture.
Our proposal is based on a Vector-Matrix for a democratic and sustainable development for the city of Kaufbeuren.
With the interaction of key aspects (landscape, mobility, uses, socio-economic aspects …) with the goals of our interests (connectivity, diversity, identity, sustainability and process management) the matrix tries to respond to the organization and the needs of the future development of the city.

The urban development process begins with the connection and the activation of program-nodes. Based on a big investment with the closing of the former landing runway, a series of reactions is initiated, which over time will colonize the area and develop a program-cloud and a texture connecting the program-nodes.
>Collaborators:
. Almudena Cano Piñeiro, arquitecta
. Paula Fernández, estudiante de arquitectura
. Ana Isabel Prieto, estudiante de arquitectura
. Kerstin Pluch, estudiante de arquitectura