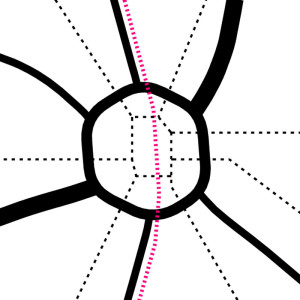 Competition for urban development of the "Favoriten" junction, in the south east of Vienna
Together with einszueins architektur
Vienna, March 2013
SHORTLISTED
We have won a competition for the urban development of the 'Favoriten' junction, in the south east of Vienna, which we presented together with our Viennese colleagues Katharina Bayer and Markus Zilker from einszueins architektur.
We are dealing with an important point of access to the city, which is currently very run-down. Nonetheless it has enormous potential as a "TORNO" between the compact urban fabric and the disperse and fragmented suburban landscape, which in turn is a valuable green environment.
The process as of now will be planned collaboratively, together with another two other winning Viennese studios (Peter Lorenz and the next Enterprise), and with an entire workgroup that includes local politicians, investors and representatives from various sectors of society, such as experts in mobility, infrastructure and landscaping (3:0 lanschaftarchitektur).